Fully Automatic FUNDABAC® Candle Filter System
The FUNDABAC® candle filter has captivated users all over the world for its exceptional design and operation simplicity. The unique cloverleaf shaped candle element design of this tubular pressure filter is at the heart of the self cleaning FUNDABAC® filter system. This design allows for efficient solid-liquid separation resulting in a polishing grade filtrate while guaranteeing adherence of the filter cake to the cloth throughout the entire filtration cycle, as well as effective and automatic cake discharge. Once the clean filtrate has passed through the filter cloth, it flows into the perforated peripheral tubes and then down to the bottom of the candle, before rising in the central tube toward the registers.
Regardless whether the solids discharge is in slurry or a dry cake form, it is achieved by a rapid counter-current flow and pressure from the inside of the candle. The patented candle structure accentuates the effect of this counter-current flow. A quick-pulse air or nitrogen (gas) blowback results in a rapid flexing of the filter media away from the candle. This breaks the cake away from the filter media, causing it to fall from the candle to the bottom of the filter vessel.
The FUNDABAC® candle filter is perfectly suited for automatic operation via PLC or DCS. This ensures reliable product quality and reproducible batch filtration. It is designed to operate in the absence of any moving parts. As a result, maintenance requirements and costs are extremely low. The use of new synthetic materials, particularly filter internals, contributes to reliable operation and long life of the filters. For inquiries or further information, please have a look at our Downloads page.
Summary & Advantages
Unique cloverleaf shaped candle element design
High solids capture efficiency
Sub-micron particle retention capability
Can be designed to work by using filter aid (precoat, body feed) according the needs
Uniform filter cakes dependably adhere to the filter cloths
Slurry or dry cake discharge
Patented heel volume filtration ensures minimal liquid loss
Can be designed to recovery valuable precious metals/catalysts
Effective cake washing can be implemented as an additional process step
Fully enclosed design and automatic operation means virtually no operator intervention of materials contact
Virtually no operating costs
Lab and pilot units readily available for testing under the supervision of trained field service representatives
Materials of Construction
FUNDABAC® Candle Filter Internal Design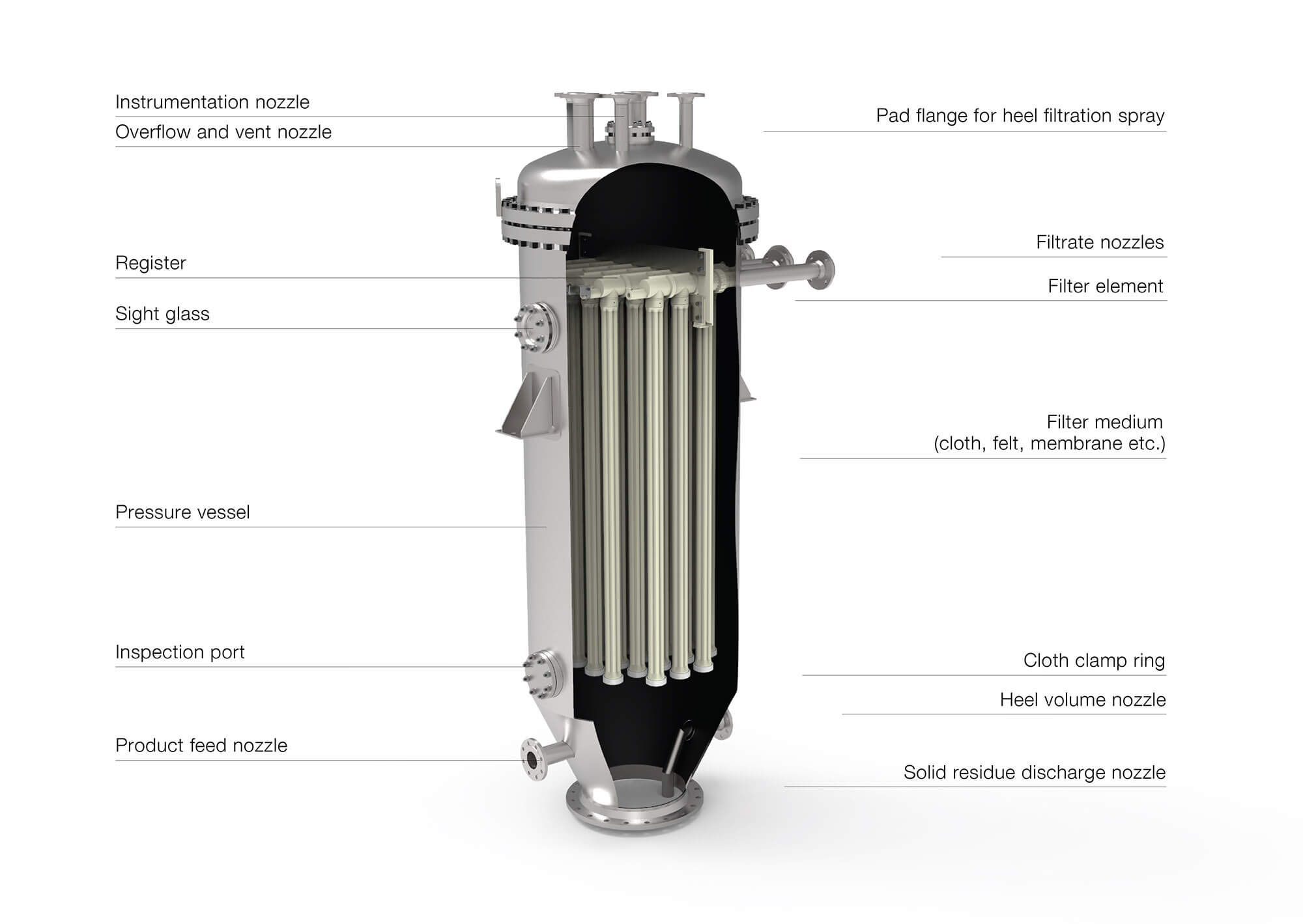 Press play to see our FUNDABAC® in operation
Link to: Lab and Pilot Filters for Testing
The most important step: conduct laboratory & pilot testing
During selection, sizing and validation of process equipment laboratory and pilot testing are indispensable bench tools. In filtration processes they provide important data on flow, pressure, filtrate quality, residual moisture, washing yield, filter aid demand and other parameters.
Industry solutions and applications
Link to: Contact Us
Contact Us
Have a specific question or can't find what you are looking for? Fill out this contact form.
Link to: Downloads
Downloads
To learn more about our products or applications you can download any of our documents, questionnaires and brochures.