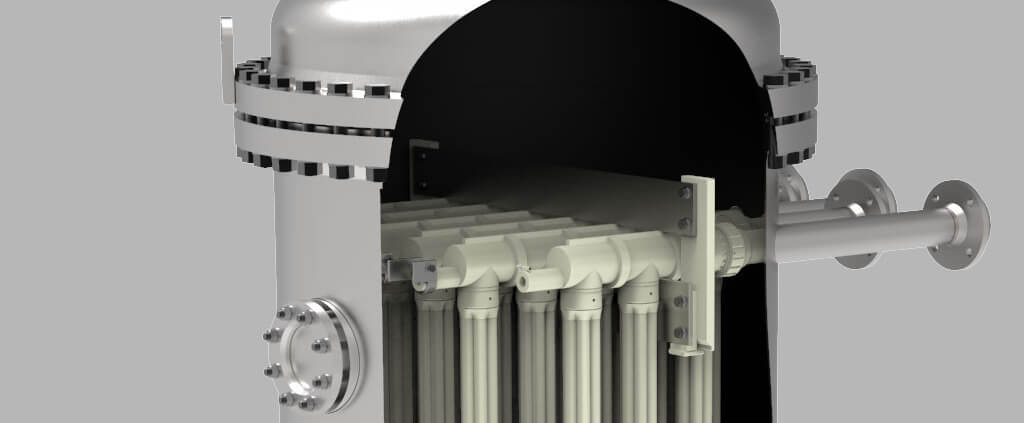 FUNDABAC® for Semiconductors
Since the onset of the industrial revolution the chemical industry spread itself into more and more applications targeting the industrial and consumer markets alike.
Especially organic chemistry gave a never ending playing field, starting with simple products, such as fatty acids, dyes and pigments but developing into complex polymers and active pharmaceutical ingredients making our lives more comfortable and healthier. Biochemistry opened another door of seemingly endless possibilities.

The rise of the electronics industry
On a separate path, with the invention of  semiconductors and the commercialization of electronics into the consumer goods and IT market, the electronics industry has reached massive scale. Accordingly, speciality materials and complex chemicals are applied alongside value added production chains such as wafer processing, chip production, display technologies, optoelectronics, PCB materials, light emitting components, high strength casings, flexible displays, temperature and acid resistant polymers, battery compounds such as Lithium, Cobalt, Nickel, Manganese, Graphite, rare earth elements and many more.
Additionally, miniaturization into nanoscale has lead to increasingly complex production and assembly processes requiring larger equipment and automation to achieve the required precision. Impurity levels in precursors and workspace play an instrumental role for reaching high yields and long life time. Clean rooms which used to be a domain of the biotech industry have become an inevitable part of this industry.


Our role in the electronics production market
Over the years the FUNDABAC® Filter has found its role in this market with countless applications for various products and processes such as silicon shaping, purification of photoresist precursors, metal oxide precursors for CMOS semiconductors, ultra thin copper foil production, sapphire shaping, high purity alumina, LCD glass etching, optoelectronics and various waste water treatments.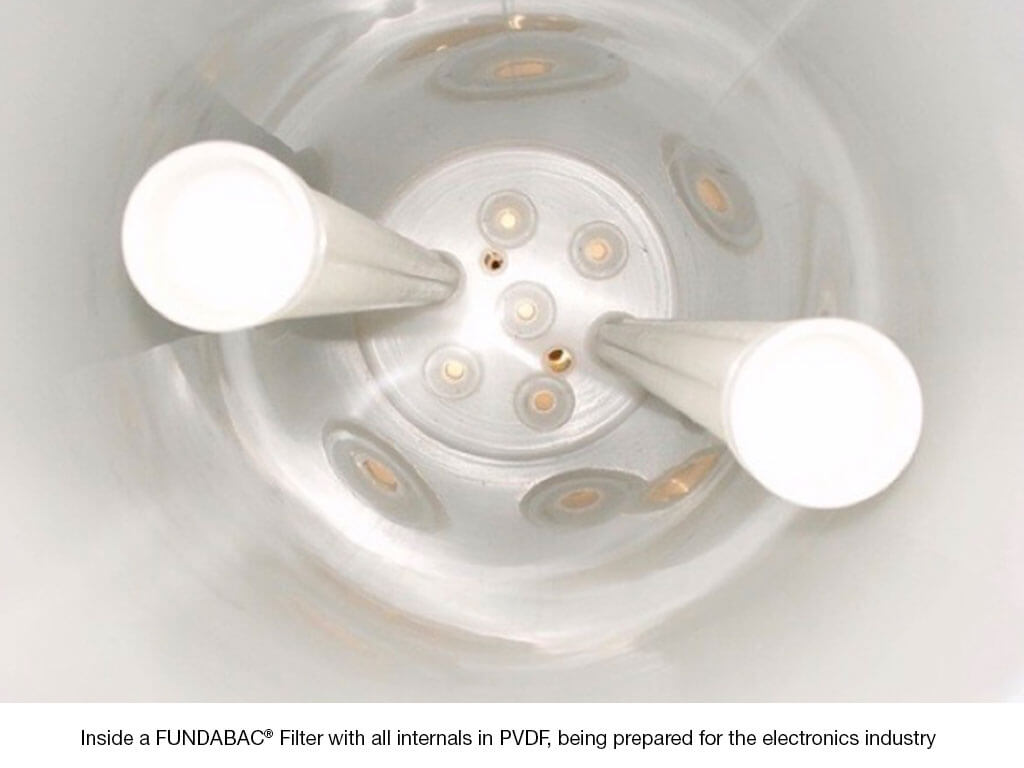 Due to its design flexibility and adaptability in terms of materials of construction the filter finds its use in high and low solids feed applications, wide temperature ranges, particle sizes down to sub micron levels as well as for a large range of solvents, acids and caustic solutions.
DrM has extensive experience with high performance plastics to be used for filter elements, support manifolds, fittings and couplings and can build equipment where no metals are in contact with the processing fluids. This prevents any leakage of metal ions into the process. The extensive range of filter media creates an enormous flexibility to adapt to various process conditions.
For small batches our FUNDASHIELD product line offers a completely novel approach to single use equipment. The filter elements are enclosed in a sealed bag to protect environment and operator from harmful substances. And unlike standard cartridge filters, they can be back-flushed multiple times while keeping the solids enclosed in the filter bag. This extends the life time of the filter.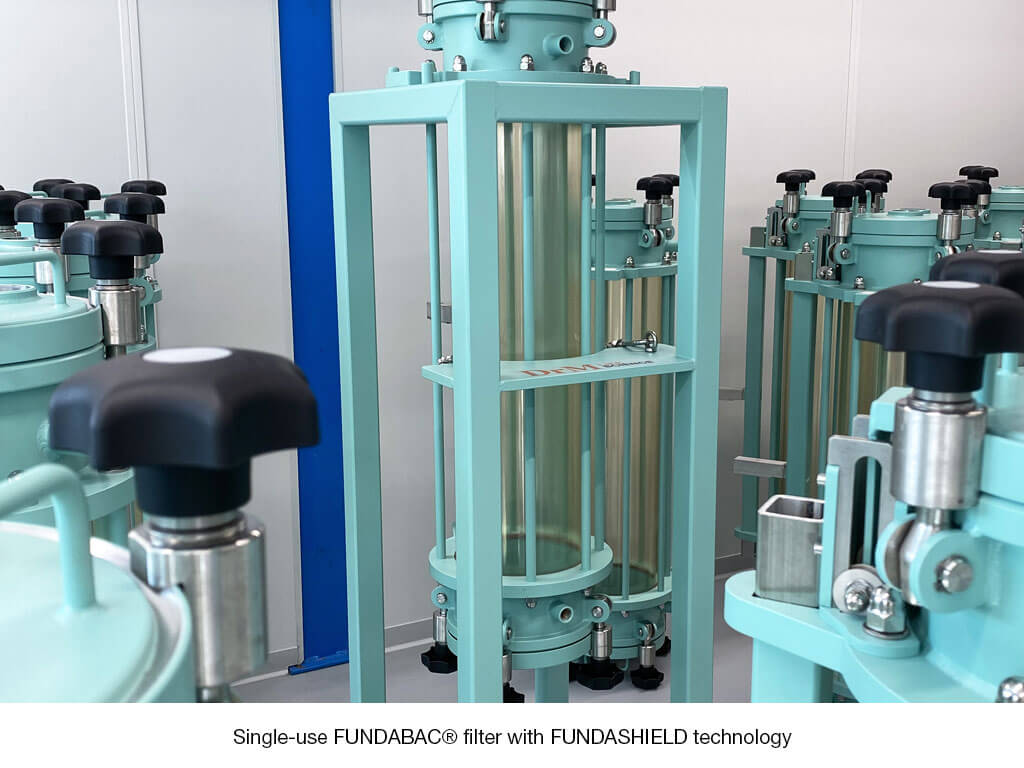 Due to a special pressure housing the bag can be pressurized from the outside by air to squeeze any remaining liquid from the solids and produce a compact cake. Finally, the bag containing the cake is sealed and removed.

Our dedication to purity
Recently, DrM has invested heavily into new fabrication facilities to be able to meet the stringent standards requiring low impurity levels in our equipment and specifically consumables such as filter media. Traceability of our products on a production lot level back to our suppliers assures transparency across our value chain.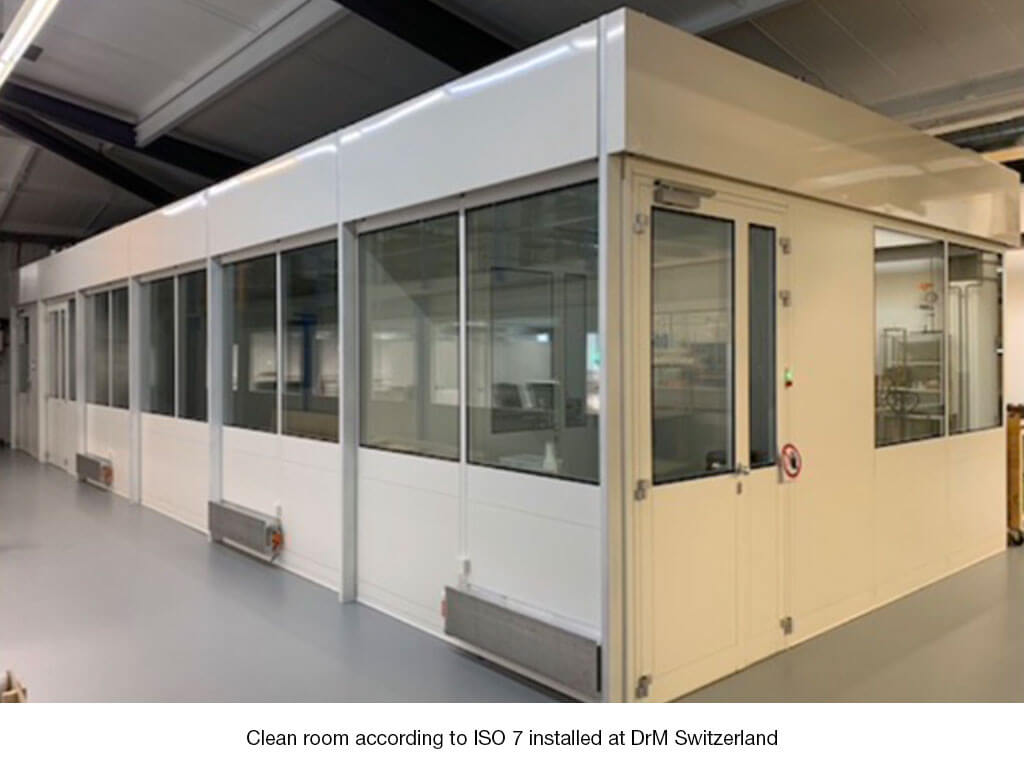 Production, preparation and packaging of filter media is centralized in Switzerland from where they are shipped all over the globe. However, local warehouses in various continents allow for quick reaction to clients' needs. This is a fast moving industry with the need of agile and competent partners.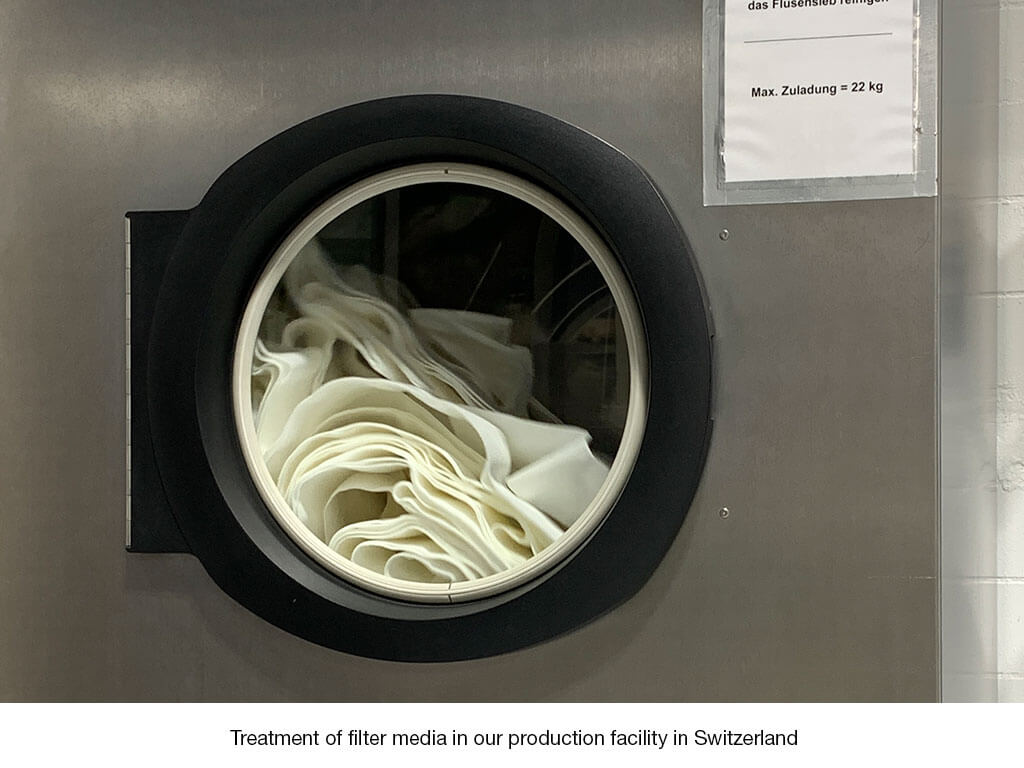 We at DrM feel well placed to fulfill these requirements. With distributed lab facilities and pilot units together with a team of process and service engineers we can react within hours to prevent bottlenecks and keep the project on a fast track. Our vast database of test reports allows us to estimate filter sizes for unknown product mixes, which can give a more accurate picture on a limited time budget during the planning phase.
Need help with a project? Contact one of our dedicated engineers.
https://drmgroup.com/wp-content/uploads/2021/12/fundabac_main.jpg
768
1024
Bruno Zuercher
https://drmgroup.com/wp-content/uploads/2023/08/DrM_Logo_website.png
Bruno Zuercher
2021-12-17 06:19:00
2022-01-20 17:43:27
FUNDABAC® for Semiconductors